FARMER JEREMY CLARKSON is today in Oxford City Centre protesting with farmers against Oxfordshire County Council's plan to serve only-vegan menus at its meetings and in schools. 
It means only plant-based meals will be served at Oxfordshire County Council events and vegan options will be on school menus.
Farmers, including Clarkson who runs a farm in the county, had protested but the move was agreed earlier.
Green councillor Ian Middleton said it puts the council "in the history books" and "on the right side of history".
He told the cabinet: "This has never been about veganism, which is a personal choice, but dealing with climate change is something we should all be choosing to do. This is what climate change action looks like."
Under the plans, the authority will ensure that food provided at all council catered events and meetings is from now on "entirely plant-based, preferably using ingredients sourced from local food surplus organisations".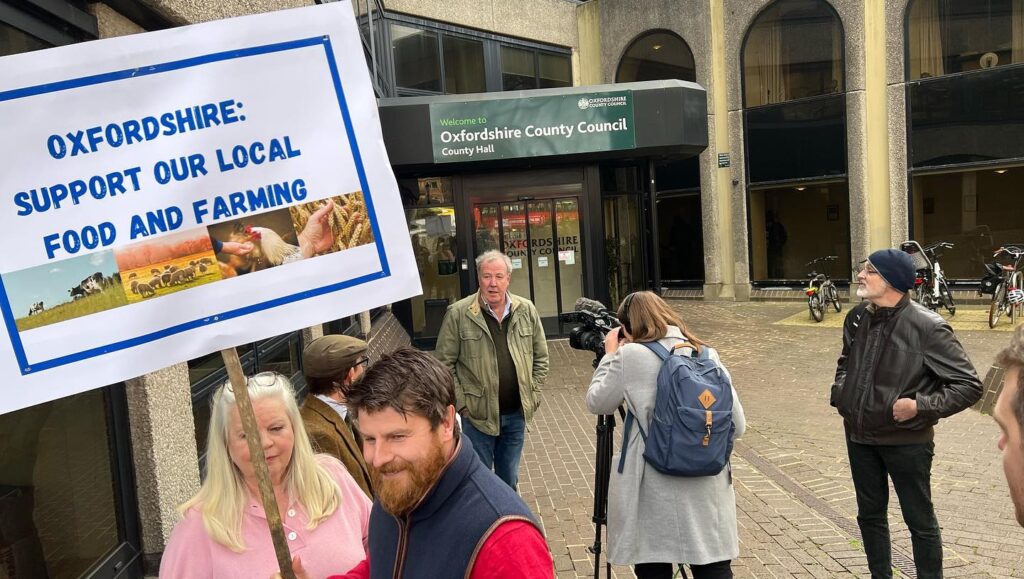 Madness
Speaking outside the council headquarters alongside protesting farmers, Mr Clarkson said: "I think people have to have choice. If people want to eat seeds and weeds, fine. If people want to eat meat, fine."
Mr Clarkson, who has a farm in Chadlington which features in the TV series Clarkson's Farm, added: "It's the principle of it. You can't dictate. You might be a vegetarian but you can't make everyone else a vegetarian just because you are."
Conservative councillor David Bartholomew called it a "bullying diktat" which sent a "worrying message to farmers everywhere".
He said: "I respect vegans and their beliefs. I quite like some vegan food, but I abhor being commanded to eat it.
"Why does this administration think it has the right to dictate the diet of its councillors? Where will this authoritarian approach end? Will we soon be told how to dress?"
Referring to the colours of the Liberal Democrat Green Alliance, he added: "Perhaps. yellow, red or green clothes will soon become compulsory and blue clothes banned."