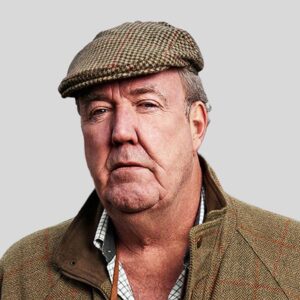 Jeremy Clarkson has annouced a second season of his new show Clarkson's Farm. All fans are happy to know that Andy Wilman is the producer of the film. The same Andy Wilman who, from 2002 to 2015, created Top Gear for us, and then the Grand Tour.
The continuation of his activities was carried out only in the project of Jeremy, while Richard Hammond and James May did not involve Mr. Wilman in the work. But I'm sure Clarkson's farm requires a lot of energy not only from Jeremy, who has always resisted manual work.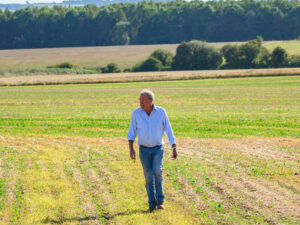 What's the plot? Jeremy, confident that England is facing an imminent nutritional crisis due to Brexit, is building his own farm … He did not even know that there was also a coronavirus lockdown ahead. Therefore, his project is a real salvation for England.
As the population for the farm, he chooses sheep combed to match himself and … a new farm helper Caleb Cooper with terrible hairstyles that resemble either sheep and Jeremy himself in his youth, or a haystack. Given that the absence of James and Richard always makes us sad (and Jeremy it makes happy), this is the best option.
In addition to sheep, there will be innovative shepherd quadcopters. A cool supercar tractor from Lamborghini to match Jeremy's height. Chickens, bees, fish and even vegetables. Jeremy even found a place for the green friends of humanity in his garden.
In this series, you will learn that the impossible is possible. That if something is planted and grown, then it will definitely be possible to eat it. Vegetables cannot escape. But the sheep can, what will they try to do, in the hope of leaving Jeremy without dinner and we are in a good mood …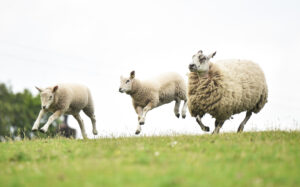 And most importantly, how can Jeremy plow the field, sow and harvest if he has never done manual work? Of course, only with the help of a real Lamborghini, which has 40 forward gears, 40 reverse gears and the control panel itself seems to have been removed from a spacecraft.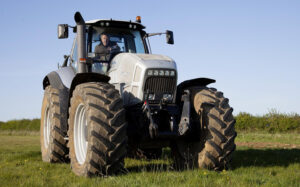 This is not boring documentary about the farm, with its everyday days, this is a fun adventure with a lot of jokes, non-standard ideas and global deep views. And of course, Jeremy will be assisted in everything by Lisa Hogan. She was once the nanny of his three children. Having raised them, she became an indispensable assistant in the house and housekeeping, and after Jeremy's divorce with his second wife, a girlfriend for Jeremy. Sharing his joys and sorrows of farming life, she will show that a woman in this business is far from the last role and without her everything would be much worse! A former model, she helps open and maintain Jeremy's new farm store and does far from easy farm work.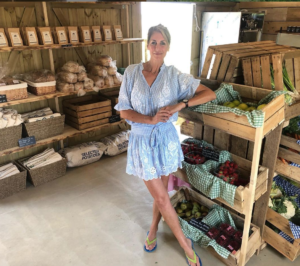 Most importantly, how to raise sheep from lambs and give birth? Lisa also helped him in this difficult matter. To our joy, Jeremy followed in the footsteps of his ancestors and even saved a sheep from death during childbirth, saving the life of a lamb.
Jeremy was able to find helpers on his farm. Each of them plays himself in the film and they deserve a personal story.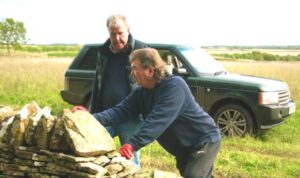 Fancy Gerald Cooper, with a terrible Welsh accent. Throughout the film, Jeremy will try to understand what he is saying. Gerald spent 50 years at the combine and worked for the old owner of the Jeremy's land. He is already 70 years old, but he is simply irreplaceable on the farm. Gerald was delighted to meet Jeremy and agreed to work for him. He also installs and repairs fences for sheep.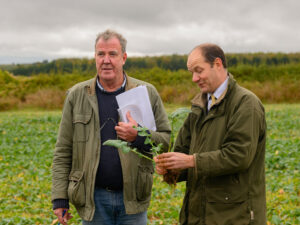 We will also meet another irreplaceable person on the farm – Charlie Ireland. He is an assistant and advisor in everything related to the farm. Charlie knows absolutely everything about agriculture and has an excellent education. According to Charlie's LinkedIn account, he has been an agricultural consultant at Strutt and Parker since 2000, and prior to that studied agriculture at the University of Nottingham. He comments on Jeremy's mistakes and often screams when he sees what it can get to wrong if Jeremy takes it. But even Lisa did not escape criticism from him for the prices in the store.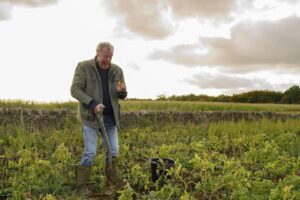 We'll see how Jeremy fell in love with his sheep but never go vegan. He will not hide the harsh truth of life on the farm. There will be a real bacon story. .Jeremy did not hide the castration of the sheep, the severity of their treatment and all the bitterness of parting with them for slaughter. He didn't show how cute it is, simple and wonderful to raise sheep and then eat a delicious cute steak. He showed everyone the truth of life as it is. As well as sometimes expressed in his articles about events in the world …
In modern England, according to the BBC, more and more vegan cafes, shops are opening and the number of such people is growing. The opportunity to think about the processes on the farm will definitely change your worldview.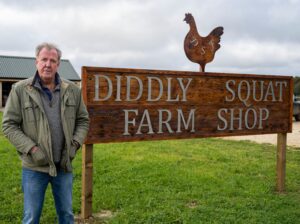 And this is not the only global issue that had to be addressed. Jeremy has also experienced the impact of climate and weather on his life. And this is not due to the age and love of the British to talk about the weather. But with the most necessary, not to stay hungry. Jeremy is seriously concerned about global warming. After all, he had to face in the year of his farming with a large number of abnormal weather events, to which local farmers only exclaimed: "Well, you chose a bad year for farming, Mr. Clarkson! One of the most incredibly worst in history". Apparently this event and determined the name of the farm "Dulia with Poppy" or Diddly Squat.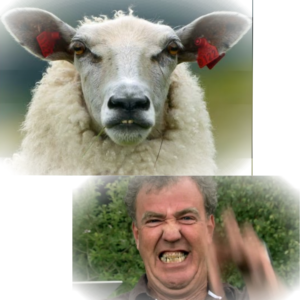 Do you think this show is still not worth watching or does it scare you as far as farming life in general? But the whole country of Great Britain appreciated the work of Jeremy car fan extremely highly. The host of The Grand Tour was named Farmer's Weekly Magazine 2021 Farming Champion.
On their Facebook, they wrote: Jeremy's passion for agriculture, an open-minded approach to everything from the environmental safety of products to the financial problems faced by farmers, makes him worthy of this award.
After a year of filming, before the release of the first season, Jeremy said: I have owned the farm since 2008. But I have never done anything on it before. One of the locals ran it and did all the things. Then he retired and I just thought: "I can handle everything myself.". It seemed to me that I just need to put the seeds in the ground, and then the weather depends food grows. I thought it was not difficult. But it's phenomenally difficult, phenomenally painful, and phenomenally poorly paid. So I thought that if I could find someone who would shoot all this on camera, then this could compensate for the financial costs.
Definitely, this is the series that will change something in your views on the work of a farmer and will not leave you indifferent. And if somewhere in the depths of your soul you dream about your house in the village, then this film is definitely worth watching!
Click here to find more information of "Clarkson's Farm".
You can also visit us on Facebook, Twiter and Instagram.