Seamen,  Jeremy Clarkson, Richard Hammond and James May reveal the behind-the-scenes secrets from their epic new 90-minute special, which takes them across Vietnam and Cambodia.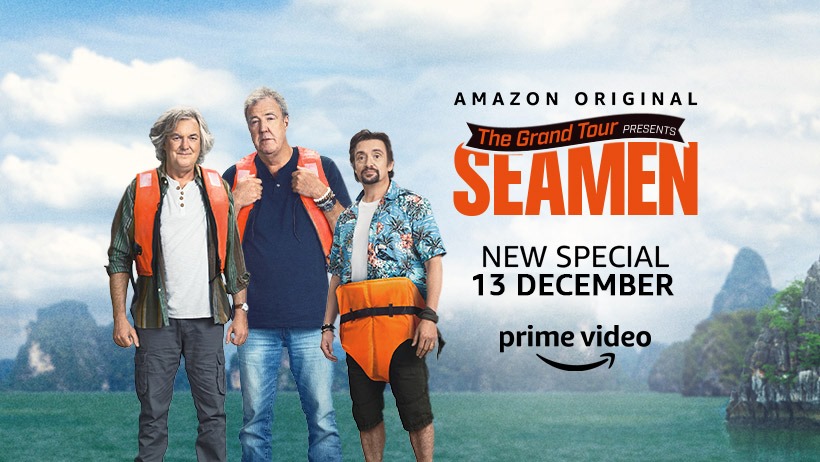 After three seasons of The Grand Tour and 16 years on television together, there aren't many parts of the world or outrageous challenges left for Jeremy Clarkson, Richard Hammond and James to conquer. Seamen
However, just in time for Christmas, the boys have regrouped for a feature-length Grand Tour special, which takes them on what is arguably their biggest, and most definitely, their wettest adventure yet.
Through Cambodia and Vietnam, their aquatic road trip involves an 800km journey that starts on the perilous Tonlé Sap Lake, and weaves its way via a series of adventures and calamities down through the Mekong Delta. Seamen
Clarkson's ride is a recreation of a Vietnam war-era PBR (Patrol Boat River), the famed military vessel seen in Apocalypse Now. Hammond channels his inner Don Johnson by opting for a Miami Vice style speedboat – of the HMS Pornography, as Clarkson christens it.
And May lives out his canal holiday fantasy dream with a classic 1939 wooden river cruiser. Seamen
Packing in a genuinely dangerous finale that brings one of the trio to tears, stomach-churning dinners and a shocking climate change admission from Clarkson, The Grand Tour presents Seamen is a road trip  voyage to remember.
Swapping four wheels for water
Grand Tour exec producer Andy WIlman admits that there were nerves about ditching cars and heading out onto the water for the special episode.
"Boats are a minority hobby, there's no getting around that, whereas most people drive so they engaged more easily with cars," said Wilman. "But it's just one film. We'll be back with cars next time. It's just a small diversion to ring the changes. If we try something and it doesn't quite work, nobody gets hurt, and that's always our attitude.
"But actually a massive proportion of our audience are not fussed about cars. They watch for the locations, the banter, the adventure, the friendship between those three. And I think those people won't care at all that they're in boats. We are ready for criticism and we're ready to go, 'Calm down'. But hopefully we'll surprise people because it's a good watch."
And it wasn't hard to find three different boats that matched up with the presenters own personalities. Seamen
"There's a James boat, a Jeremy boat, a Hammond boat," said Wilman.
"James went for a Norfolk Broads, Michael Parkinson type of pleasure boat. It's a gin and tonic, wearing-a-cravat boat. Because it was a river cruise, James wanted something built for a river. He's pragmatic like that.
"Hammond expressed his disinterest in boats by being a child and getting a Miami Vice style speedboat that drug dealers have. He didn't give much thought to the practicalities of his choice.
"And then there's Jeremy, who is a boating man and has always liked boats. He also loves the Vietnam War so it doesn't take a genius to put two and two together and realise he's going to come out on a PBR."
The climate change message
The Grand Tour boys show no signs of growing up on this adventure – From the title of the episode to Jeremy and James respraying Hammond's boat with the name 'Jizzle Drizzle'.
However, there is a message about climate change at the heart of this special. An admission and slight change of heart from the petrolheads.
"It's our job to make a show for people who like cars, and we are a tiny percent in terms of our influence, is the reality. The climate change people do what they do well. So we get on with our job and they get on with theirs," explained Wilman.
"But the whole river and lake thing you see on the show is absolutely binary, in front of our eyes. The people couldn't fish. The Mekong is a lifeline to hundreds of thousands of people and it's dry, not helped by the fact the Chinese have built a dam which stops water flowing through. The Mekong is being threatened. Does it macke us hypocrites to point that out? I don't think so, because I don't think we've suddenly become Greta Thunberg.
"But we are in our right to point out that this whole thing is happening in a brutal and binary way. Critics might say, 'Oh, you're bothered about the Mekong River but you're not bothered about driving a Ferrari'. I think our argument would be, 'It's not for us to worry about driving Ferraris because governments will decide whether or not people can drive them, and that's not within our gift.'
"But what we saw in front of our eyes was worth talking about."
For once – a warm reception
"We've had a less-than-warm welcome in some places we have been," admits Richard Hammond.
It's fair to say, the reputation of Clarkson, Hammond and May.often precedes them and wherever they travel.these days, they are typically.viewed with suspicion.
However, in Cambodia and Vietnam,.the trio were greeted with open arms and helped out of several tricky spots by the locals.
"In this part of the world, the attitude is so welcoming and friendly. I ended up being towed by a bunch of locals who saw me stuck," said Hammond.
"People really do muck in and help and see the funny side. If you are at the back of your boat trying to cut the nets out of the prop, people will actually find that funny. They'll laugh but they'll still come and help you."
James May admitted he even formed a special bond with one very helpful local who came to his aid in his hour of need.
"It's a very hospitable, upbeat part of the world. In that kind of country they end up helping each other out," said May.
"Especially on the water which is so important to them for their lives and their livelihoods. If you're a foreigner and you're being an idiot in a 1939 boat,.they'll think, 'Yes but he's in trouble.so we'll still get stuck in and help him'," said May.
"I got a bit of net caught in the prop quite badly and a.local fisherman had the same problem so I went to help him and then he came to help me. I went around one side and he went around the other and we reached underneath and found each other's hands and it was all very sweet.
"After an hour or two we eventually got both our boats free. The language barrier was complete and utter, but I had this moment of fantastic camaraderie with another man in peril on the sea. I loved it. He is my brother forever now."
Battling sickness and fly-infested accommodation
It wasn't all bromances at sea and plain sailing for our adventurers though. Richard Hammond had to battle a nasty infection after he caught cellulitis from open blisters on his heels.
"When it first struck I didn't know what it was and I just couldn't walk," he said.
"The medic checked it out and told me I needed to be on very strong antibiotics quickly because it can creep into organs and turn into sepsis and that's not good."
"It felt like hell."
And Clarkson described their first night on the lake on Cambodia as coming very close to the worst place they've ever stayed. Seamen
It was so bad that it will really wind him up if you mention that people believe the presenters don't really sleep in the places where they film.
"There's nothing more irritating than people saying, 'You're like Bear Grylls, you say you camp out there but you actually go and stay in a hotel'.
"I urge people to go on Google maps and see if they can find a hotel we could have gone to. Neither us nor the crew got a single second of sleep."
Describing his evening, he said: "It was like sleeping in a fly-infested and extremely noisy oven at 400 degrees; if you filled your oven with every insect in the world, and then got in there with a pile driver and a deranged dog.
"You'd also have to crap your pants for the smell."
A dangerous and tearful finale
The final stretch of the Seamen special is one of the.most dangerous and emotional sequences the presenters have ever filmed as they head out into open waters in their highly unsuitable vessels.
Filmed across a sea, close to where four people died.on the same day, Hammond was left in tears and May was briefly left stranded on his antique boat.
"If people want to see three TV presenters being.really hurt then this is a good place to go," said Clarkson.
"My bruises lasted weeks. My boat was full of sharp edges and.I kept being hurled into those. It wasn't much fun. Very close to where we were, four fishermen died. We weren't exaggerating, they were big seas, it was scary.
"I can remember the panicky radio calls coming over my walkie-talkie. I was thinking, 'It's bad but it's not the end-of-the-world bad'. It was only when I saw the footage, particularly of James' boat and the camera boats, that I.thought 'Bloody hell.' That's the other thing of course: we can't just think.about ourselves, there were 50/60 crew out there on small boats that were sinking. Boats were sinking,.I think Hammond may have been crying, and.James was stranded. I thought for once we were actually going to be.rid of James May but no, he survived."
Hammond added: "At first it was the horrendous monotony of it,.just being bashed and bashed when water smashes against.the hull again and again. The sea water in my eyes – you see me at one point trying to pour bottled.water into my eyes to attempt to get the salt out. That was pretty close to despair."
Andy Wilman confessed the production team were surprised.by the weather and the treacherous waters, which got "worse and worse and worse" as they filmed.
"Four people down the coast died that day," said Wilman. "I don't know any more details but I know it happened on that day. Driving on Death Road in Bolivia was terrifying psychologically, but mathematically you know.that if you stay away from the edge, you're not going to go over. Whereas with the sea, you haven't got a clue what it's going to do, that's the first thing.
"There's no parallel with a road trip. It took several hours. It was properly brutal."
Click here to find more interviews with the trio on this website.
You can also visit us on Facebook, Twiter and Instagram.
This interview on Seamen was first published on BT TV.