No cars, but three Boats where used.in the latest episode of.The Grand Tour "Seamen".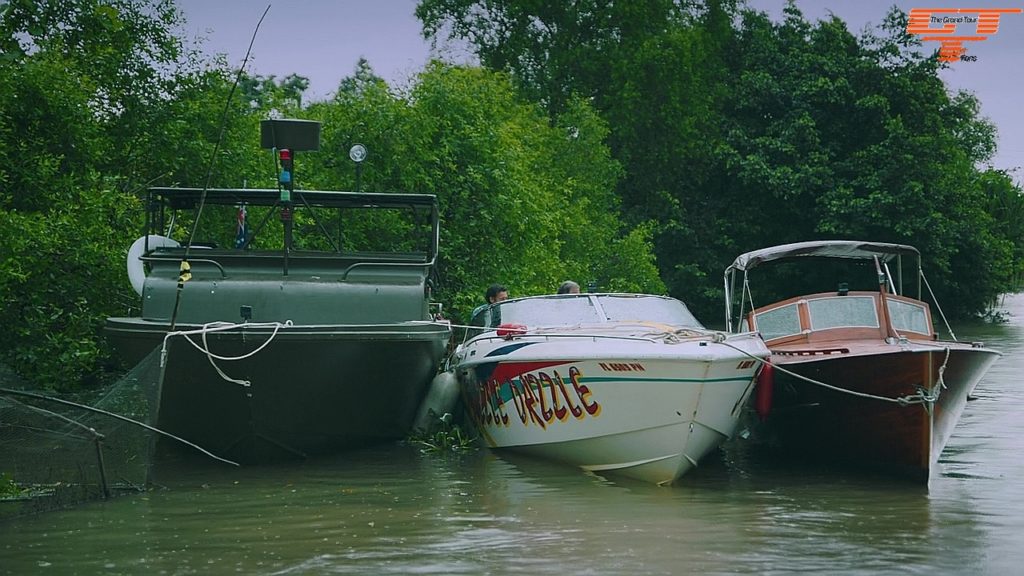 Not just everyday boats but.there were specific boats for.each of the presenters. We see Jeremy Clarkson in a replica PBR boat. Richard Hammond in a Miami Vice style Speedboat and James in a wooden river cruiser.
We take a deeper look into the boats of the presenters:
PBR (Patrol Boat Riverine) Mk II.

Type: Patrol Boat Riverine Mk II (replica)
Manufactor: Uniflite Boats (originally)(U.S.A.), Unknown this replica.
Year: 2019.
Engine(s): 2 x V8 each with 350 Hp.
Length: 32 ft (9.8 m).
Beam: 11.5 ft (3.5 m).
Draft: 2 ft (0.61 m).
Speed: 32 Mph (53 Kmh) or 28.5 Knots.
Purchased for: £ 100.000 (€ 120.000) ($ 134.000).
The PBR was designed by Hatteras based on one of their succesfull family boat models and equipped with two water-jet pumps. As opposed to propellers, water pumps would allow the new boat to operate in extremely shallow water.
In 1965, the Navy awarded Uniflite Boats with a contract to build 120 – 31′ River Patrol Boats (PBR's). The PBR's were powered by twin Detroit.6V53's with water jets.and they cruised between 25 and 31 knots. There were over 750 PBR's.built and at the height of production.two PBR's were rolling off the assembly line each day.
The PBR was manufactured in two versions,.the first with 31 feet (9.4 m) length and 10 foot, 7 inch beam. The Mark II version 32 feet (9.8 m) long and 1 foot (0.30 m) wider beam had improved drives to reduce fouling and aluminum gunwales to resist wear.
More information about PBR´s can be found here: www.uniflite.com.
Razzle Dazzle Speedboat.

Type: Wellcraft 31 Thunder.
Manufactor: Wellcraft (U.S.A.).
Year: 1993.
Engine(s): 2 x V8 each with 425 Hp.
Length: 31 ft (9.5 m).
Beam: 8.6 ft (2.6 m).
Draft: 1.9 ft (0.58 m).
Speed: 60 Mph (96 Kmh) or 52 Knots.
Purchased for: £ 23.000 (€ 27.500) ($ 31.000).
"Razzle Dazzle" is a Wellcraft Scarab 31 Thunder that dominated the 1990's South Florida nightlife and party-hearty Miami Vice Era.
Repowered in 1998 with twin 425hp, EFI 502 ci Mercruiser engines and Bravo I outdrives, this Scarab Thunder will deliver thrill-seekers a comfortable ride at 45 to 50mph without stressing the engines and top speeds above 60mph. Under the right conditions.and with an experienced driver as the current owner,.a top speed of 70mph. can be.achieved.
More about this boat can be fond here: www.popyachts.com.
Lady Christina Riverboat.

Type: Lady Christina.
Manufactor: Carl Gustaf Pettersson (Sweden).
Year: 1939.
Engine(s): 1 4 Cylinder 99 Hp.
Length: 29.5 ft (9.0 m).
Beam: 6.5 ft (2.0 m).
Draft: Unknown.
Speed: 14.5 Mph (23 Kmh) or 11.5 Knots.
Purchased for: £ 16.000 (€ 19.000) ($ 21.500).
The Swedish Carl Gustaf Petterssn was a boat designer,.who was very respected.in his time because of.his wonderful designs. During his entire life he produced.wooden boats. Although pretty old. and despite not being made in serial production,.there are still plenty of.Pettersson boats available in the market.
Nowadays the price of a Pettersson Boat is pretty reasonable. If you consider how much labour went in making these boats and their age.
More information about Carl Gustaf Pettersson can be found here: www.wikiwand.com.
Read this interview how Seamen was made.