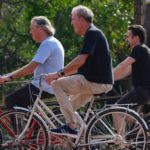 Let´s go to The Grand Tour news first. As we showed you in earlier videos on our channel The Grand Tour Trio Clarkson, Hammond and May were filming in Cambodia and Vietnam. But suddenly things stopped. They weren´t moving forward as we expected but suddenly the trio was back in the U.K.
Jeremy explained what happened later in his column in The Times that they were surprised by a heavy monsoon. Just after they started filming a segment, where  the trio tried to cross part of the South China Sea, which is known as one of the most dangerous seas in the world.
As filming got underway, they were hit by the monsoon as they rowed in the sea. With James having to be rescued. According to The Sun Clarkson said "I, of course, was fine, but May had to abandon ship as crew boats were filling with water." "It was an incredibly dramatic ending which was entirely accidental," he explained. "The ending we'd planned, that we'd spent hundreds of thousands of pounds on, that we had researched for months, didn't happen." "As a result of the conditions we simply couldn't complete
the shoot but because of the conditions we had one hell of an ending – an astonishing ending."He also told this in a video on DriteTribe.
Right now the Grand Tour trio is celebrating a holiday break on which we will come back later.
We don't know anything about new plans for filming, but as soon as they start we'll inform you.
The Grand Tour premiere of Season 4 will be on december 13.
Meanwhile Clarkson, Hammond and May are busy with their other shows.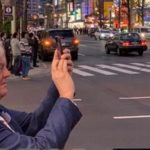 James spend a few months in Japan for the new Amazon show "Our Man in Japan" where he is getting to know more about the Japanese culture, learn to eat noodles with chopsticks and visiting temples and special festivals.
The six episodes of Our Man in Japan are expected to be available at the end of this year on Amazon Prime.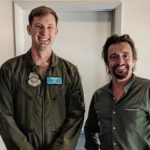 Richard is busy with his show for Discovery Channel with the ironic
title BIG.
In this ten part documentary series he's going to explore world's biggest structures and machines.
Hammond is gonna find out how engineers go about building, maintaining and using these superstructures. Filming is underway and Richard has been spotted on various locations around the world.
We expect BIG will premiere on Discovery Channel late 2019,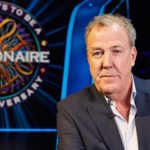 Jeremy will appear once again in WWTBAM later this year.
The recordings took place in July in Manchester. It´s the third series of WWTBAM presented by Clarkson and is starting this month on ITV.
But that's not all we can see from Jeremy. He also is making a show, which hardly anyone expected from him,  about Farming. In this show called "I Bought The Farm" he will cover the hard reality of being a farmer,  from extreme weather conditions to pest control, and let's not forget the paper work!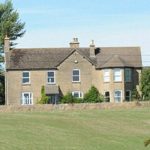 Clarkson bought his 1.000 acre farm many many years ago  and it's located in Chipping Norton about 2 miles from  his house where nowadays his ex-wife and children live.
At this farm called "Diddly Squat Farm" he grows wheat, barley and oilseed rape.
The house of the farm has been demolished by Hammond and May which we could see in the first season of The Grand Tour. As far as we know the construction of his new house hasn´t started yet, but we know that all the paperwork and permits are approved so the reconstruction can start anytime soon.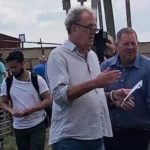 Recently he made a surprise appearance at the Shearwell Thame Summer Sheep Fair where he showed up with a camera team and he purchased 78 so called North of England Mule shearlings. According to the breeder they are an ideal ewe for somebody just starting out in sheep farming. The sheep will be introduced in the Autumn on Clarkson´s farm.
The release date of `I Bought A Farm` is yet unknown, but
is expected early 2020 on Amazon Prime.
Let´s get over to the other news and gossip:
Clarkson's Twitter Popularity
Recently the RadioTimes website held a poll amongst their twitter users about who the best presenter of Top Gear was. Top Gear is running for 42 years and there have been 33 different faces on the show.
Offcourse Clarkson couldn´t resist to give his view on this  poll and in a simple tweet he just said `me`.
Well even if he wouldn´t have done this self promotion it was pretty clear he would be very popular. But the end result was overwhelming.
With a staggering 74% of the 5.000 votes Clarkson ended on the first place. Second was James May with 9% and Richard at the third place came on 5%. That leaves 12& for the remaining 30 presenters.
Clarkson's Column
In one of his latest columns in The Sun Clarkson explained about his nearly dead experience a little while back. "After my morning, ahem, ablutions, I looked back to see what I'd produced and damn near had a heart attack. The whole bowl was stained blood red. "Well that's it", I figured "I've got bottom cancer". I mooched around for a couple of hours, touching photographs of the children and staring wistfully at next year's wall planner, thinking: "Well, I won't be doing any of that."
And then I went to the fridge and found the plate of beetroot that I hadn't finished off the night before.
I swear to God that stuff should come with a health warning, advising people that it will make your number twos the colour of Marilyn Monroe's lips.
Just before his holiday a picture appeared on Jeremy Clarkson´s instagram. We can seen Lisa Hogan, his girlfriend, watering the vegetable garden on the courtyard on his farm. Suddenly it came to us where he got his inspiration from…
A fan on Twitter asked Jeremy what happened to the cars after filming.
The Jeep from Colombia and the Alfa from Scotland are at my house,' replied Clarkson.
But that's not the complete answer as we know. He also kept The Excellent, the vehicle that was made from a Landrover Discovery chassis and a Mercedes SL body and was seen in episode 9 of the first season of TGT.
James also saved one of the cars he drove on the show. He wanted his Beech Buggy he used in Namibia in Season 1 so badly he added that to his car collection. Next to that he bought a new Alpine A110, after he tested it in episode 5 of the third season.
As far as we know Richard didn´t took any of the cars from the show to his house.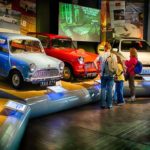 In Top Gear years all, or at least most, of the cars they used were retreived back to Britain and some of them can be seen by the public at the Beaulieu Museum near Southampton. We presume the same happens to the cars of The Grand Tour but we know for sure the car called `The John` from the Mongolia special never returned. It was demolished in Mongolia due to problems with export papers.
As I mentioned earlier Clarkson, Hammond and May are celebrating their summer holidays.
Jeremy shared some pictures and short movies of his trip. It looks like he´s in France near what looks like the mediterranian sea and in Orleans.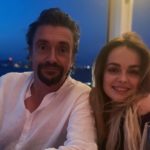 Richard is spending his time with his family in the South of France in the region around St. Tropez. Meanwhile they also celebrated the birthday of one of his daughters.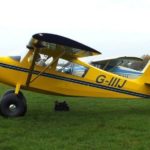 James stayed closer at home.Which is very understanable after he spend a long time in Japan while his house was demolished and rebuild. We suppose It´s about ready for him to move back in and that´ll take hime plenty of time. But he´s enjoying himself playing around with his American Scout Airplane which he flew last week around Compton Abbas.
You can also visit us on Facebook, Twiter and Instagram.